Bedrooms o
To ensure the highest quality of sleep and relaxation – is the purpose of our design, which combines the pursuit of comfort and constant aesthetic evolution of bedrooms.
A bed that is made of high-quality materials that are not harmful, a bed that is sturdy and stable to provide all the comfort you need while sleeping is the standard we follow. Whether it is panels, lacquered surfaces, veneer finishes or upholstered surfaces, we strive to make the bed well-made and to be part of the whole room where you will find your oasis of peace, rest and relaxation.
Beds, in addition to their basic function of a place for a peaceful sleep, can also be a space to use for storing things, leaving space for a crate or drawers under the bed. While this is often a solution that meets customer needs, producers of mattresses suggest that the best option is to left space under the bed  empty and airy, for ventilation of the mattress and the optimum climate of sleep.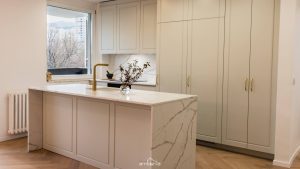 Learn more about us, feel free to search for us on social networks: Facebook , Instagram i LinkedIn