Childrens room o
With us, attention to quality extends to every corner of the childrens room. Our goal is to provide your child with an environment made of high-quality and long-lasting materials. This is not only a place to play, but also a place where they will rest, learn and develop.
When decorating the interior of a child's room, factors such as the size of the space and the age of the child play a key role. This is the reason why we make furniture to measure, to perfectly respond to these unique needs. With a special focus on functionality, safety and style, our furniture adapts to your child's growth and changes.
Let the wardrobe and bed be the foundation of the children's room, which adapts to age and development. We pay special attention to every detail so that every children's room becomes an inspiring and stimulating environment for your little one.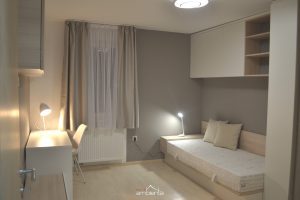 To visit us and learn more about us, feel free to search for us on social networks: Facebook , Instagram i LinkedIn