Kitchens
Our vision of the kitchens is transcended by using special materials, enabling the creation of kitchen spaces that not only meet the highest ecological standards but also have an irresistible warm elegance. A wide range of colors and textures gives us a versatile palette to suit every taste and style.
Using this palette of materials, every kitchen becomes an expression of personality and functionality. Our panels come in different materializations, giving you the option of choosing between matte and glossy surfaces, authentic wood decors, and even refined canvas textures or metal effects.
Whether you dream of a classic kitchen with warm wood tones, a subtle combination of matte and gloss, or a modern design with metallic accents, our range of materials allows you to create perfection according to your taste. Your kitchen will not only satisfy aesthetic desires but will also be the functional heart of your home, adapted to your lifestyle.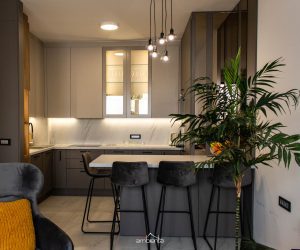 To visit us and learn more about us, feel free to search for us on social networks: Facebook , Instagram and LinkedIn