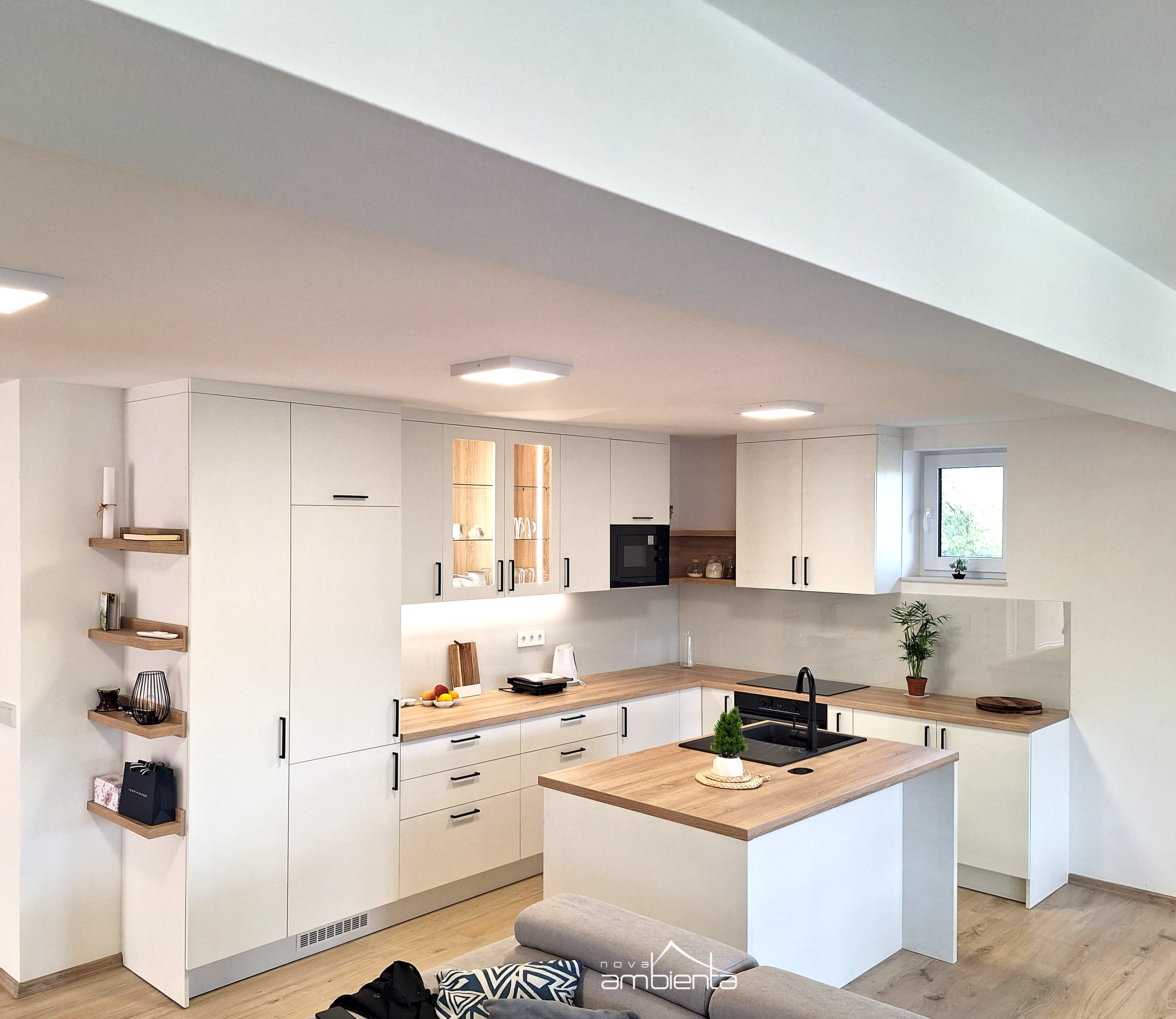 The Art of Material Selection in Kitchens
October 30, 2023
In the world of interior design, simplicity often embodies true elegance. In today's blog, we will explore two kitchens that are characterized by sophisticated simplicity and investigate how the choice of materials can significantly impact the look and feel of a space, with a focus on personal tastes and preferences of clients.
Simplicity is Elegance
The first kitchen we will explore is a captivating kitchen in a sophisticated creamy white shade, made from high-quality lacquered medium-density fiberboard (MDF). The central elements of this kitchen stand out thanks to the quality ceramic cladding that extends along the countertop and wall. But that's not the end of its elegance. This kitchen hides another secret weapon – its aesthetically exceptional island, also covered in ceramics, which subtly conceals a radiator. With a minimalist look and simple Milan handles, this kitchen clearly shows us that true elegance can be found in simplicity.
Combining Materials
The second kitchen we're exploring is made from Egger's enhanced panels in a white decor, and the space exudes simplicity and harmony. The countertop and island in Egger's oak add warmth to the entire space. The surprise comes in the form of a corner unit, perfect for storing spices and all necessary household items. Functional tempered glass subtly blends with the glass part of the kitchen illuminated by LED lighting. Pull-out baskets and built-in elements complement the functionality of this space. Immaculate white decor provides a feast for the eyes and creates the ideal ambiance for cooking and socializing.
Your Vision, Our Realization
At the end of the day, the kitchen is where we all gather, prepare meals, and share moments with our loved ones. Given that, it's important that it reflects your unique vision and style. Whether you desire a kitchen with sophisticated simplicity or extravagant luxury, we are here to fulfill your desires. With careful selection of materials, colors, and details, we can create a kitchen that perfectly aligns with your wants and needs.
Designing a kitchen is not just a task but an art based on collaboration between you and interior design experts. Feel free to inspire us with your vision for any part of your interior, and we will turn it into reality. Your home is your story, and we are here to write it together.