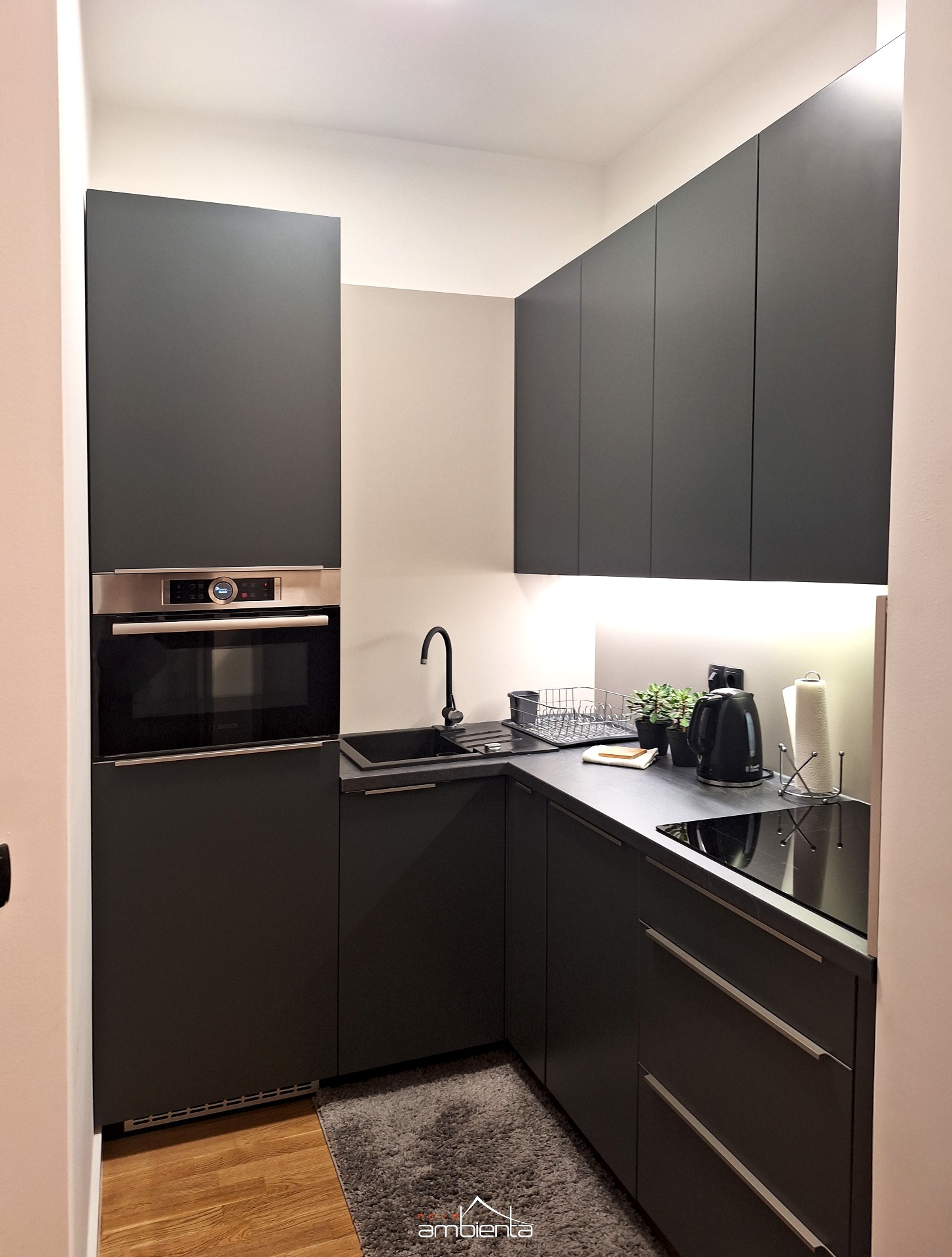 Functionality meets elegance
August 27, 2023
Satisfying all the wishes and preferences of our clients while maintaining the level of quality is our primary goal. Certainly, we are often faced with challenges, as was the case when designing and building a kitchen in a very small space. Like each of our custom-made projects, this kitchen represents functionality combined with sophisticated design. A lot of storage space, pleasant environment for cooking and quality materials make an exceptional ensemble.
European Union market preferences by our client, combined with our detail oriented minds we created everything by using high-quality plywood in a beautiful dark shade. MDF ensures extraordinary durability and resistance to everyday use, while the dark shade brings a touch of luxury.
Manufactured by Blum, one of the most impressive elements is the Tandem Box Antaro petals. These innovative elements enable quiet and easy opening, offering an extra layer of comfort to everyday activities in the kitchen. Handles with precise CNC processing are contributing to practicality, but are also aesthetic finishing touches that highlight the elegance of design. Creating a personalized solution, we note that the kitchen was made in a non-standard height that corresponded to the small space that we used to the maximum.
In addition to all creations in which we combine materials, mechanisms and exquisite details in perfect harmony, we aim to reflect your personality and style. For you, we open the door to incredible possibilities of personalized projects that will inspire you, for each day differently.
Let your kitchen become the center of your home that simultaneously satisfies your culinary ambitions and enchants you with every detail. Our team of experts is at your disposal in order to create a space that reflects your wishes and needs. Your happiness and satisfaction is our ultimate reward.
Open the image for the best quality!