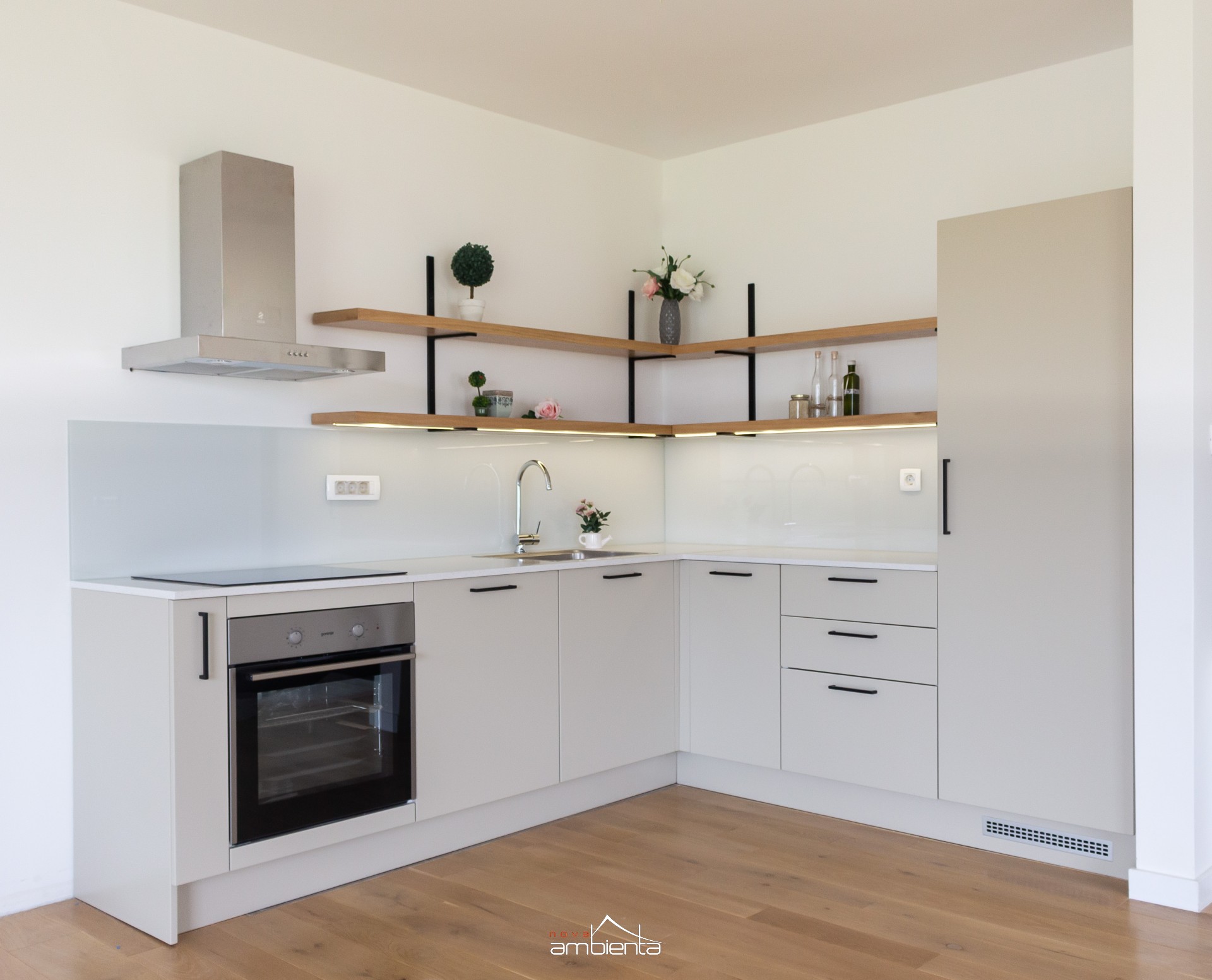 NovaAmbienta kitchens are part of the River Walk residential units in Ilidža
August 6, 2023
During our many years of business, we daily meet the different needs of our clients, we overcome various obstacles, we try to adapt the conceptual solution to the size of the space, while satisfying the wishes and possibilities of the clients. We found the solution to this problem in the creation of custom-made kitchens that fit perfectly into your living space. Now more than 15 custom kitchens are part of the River walk condos. The residential and commercial building River Walk is a building whose investor is M-Investment Group d.o.o. Sarajevo with equity capital from the Kingdom of Bahrain. It is a great honor and pleasure to be part of such a large project that we have been working on for a long time and to once again demonstrate the quality, responsibility and professionalism offered by NovaAmbienta.
Custom-made kitchens specially designed for this project attract attention with their simplicity and minimalism. This is also one of the reasons why NovaAmbiente kitchens will be perfect for any new tenant of the River Walk facility, because with a little effort and detail, they can be easily adapted to your style and needs.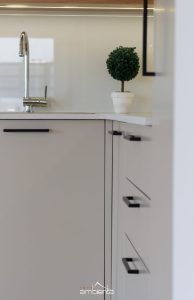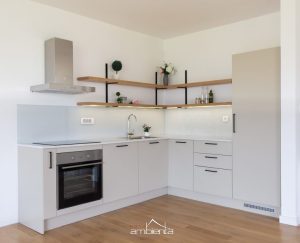 "…why NovaAmbiente kitchens will be perfect for any new tenant of the River walk facility…"
The kitchens of this large project were made in Scandinavian style, therefore softer, pastel colors dominate, which bring peace and serenity to the room.
A somewhat bolder move was the installation of black handles, which are there on purpose to avoid the monotony of the space. For the same reason, black details are part of the hanging shelves. The lower elements are done in a modern minimalist Scandinavian style that shows the purity of lines, regularity and moderation that is really noticeable in this project. With all that, it was important to achieve an interesting and unique effect. The hanging elements are also not made in the usual way, ie. they do not cover the walls completely, but are placed on the wall in the form of shelves. In this way, the hanging elements make the walls breathe, they are not covered with classic elements, and due to the smaller number of elements, the space seems larger and more spacious.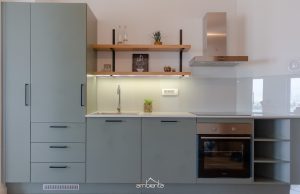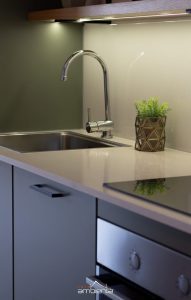 If you too have decided that your living space exudes uniqueness and quality and that every piece of furniture is created especially for you, you can visit us, contact us, and see more about our work on social networks (Facebook and Instagram).