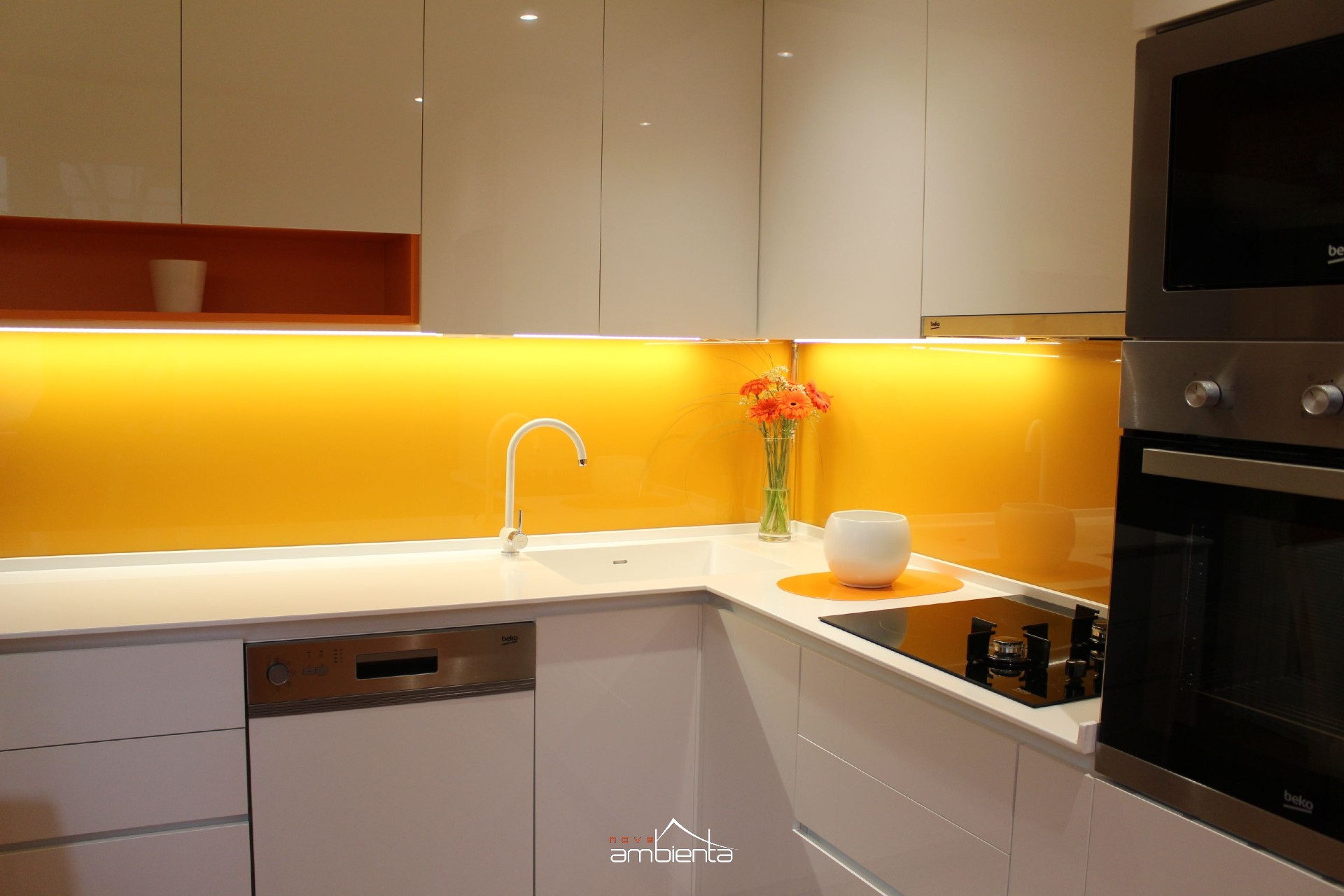 Small kitchen decorating ideas
August 6, 2023
Regardless of whether the kitchen is small or slightly larger, it is the heart of the home and a source of warmth. The kitchen is a place used by all members of the household, and very often it is also a place where the whole family gathers. As such, it is necessary that it be functional, of good quality and of good appearance. What we want to point out is that good design doesn't have to be reserved only for large kitchens. Below we bring you some tips for decorating a small kitchen, because we often encounter difficulties when it comes to decorating a smaller space.
Materials
When decorating a small kitchen, the selection of kitchen elements, work surfaces, materials and colors play an important role. A good idea is to play with materials, so choose materials with textures such as wood, marble, stone and so on. In our gallery, you can see small kitchens made of exactly these materials, which, in addition to making a small space interesting, give another deeper dimension to the entire interior.
Colors
When it comes to colors, the fact is that lighter colors make the space visually larger, more spacious, which does not mean that darker colors cannot be ideally combined. In 2021, darker colors in the kitchen will be one of the trends for home decoration anyway, while we leave the slightly lighter ones aside. The colors that will dominate are pastel tones, followed by shades of green and blue. What will bring warmth to an elegant kitchen in pastel colors is a trace of nature – wood, so wooden surfaces will fit in perfectly. However, using many years of experience, many owners choose shades of lighter tones for themselves. But such shades stand out with the contrast between the color of the elements and the work surface, interesting decor and plates of tempered glass in interesting colors instead of classic tiles, which is very easy and simple to maintain. In this way, warmth, cheerfulness and uniqueness are brought into the small kitchen.
Functionality in the first place!
A modern, elegant kitchen with a stunning design does not mean much if it is not functional, i.e. if it does not contain enough work surface and storage space for dishes, food and other things that we like to keep in the kitchen. Regardless of the area you have available, with a good architect and designer, your dream of making a small kitchen functional and adapted to your preferences is very much achievable. That's why we advise you to choose a company that makes custom-made kitchens.
Good light
It is undeniable that light plays an important role, even though it doesn't seem like it at first. However, by bringing light into the living space, it will appear larger. Particularly in small kitchens, light will not only make the space visually larger, but also more attractive, giving it new notes of warmth. In our gallery you can see how you can play with lighting in interesting ways. To make cooking even more comfortable, we recommend installing lights on the upper elements or next to the work surface.
There are many examples of small kitchens, in our gallery you can see some of them, the creation and design of which is due to the NovaAmbiente team.
If you too have decided that your living space exudes uniqueness and quality and that every piece of furniture is created especially for you, you can visit us, contact us, and see more about our work on social networks (Facebook and Instagram).
---
Gallery: